Alberta Chess Association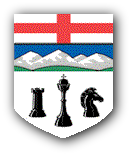 ACA Instructors Directory


Information about registered coaches in Alberta is posted here for potential students. Please note that only the listed individual instructors (not organizations) are to be contacted to claim the coaching prize.

Edmonton Area

IM Edward Porper
WIM Agnieszka Matras-Clement (Leduc)
FM Loren Brigham Laceste
NM Robert Gardner
Richard Pua
Dustin Koperski


Calgary

NM Vlad Rekhson
NM Steven Peter
Angelo Tolentino
Frank Kluytmans


Other
Mojtaba Faraji (Lethbridge)

The following organizations also provide instruction. The coaches listed on these sites are not necessarily ACA-approved, and cannot be used for the claiming the ACA coaching award unless they are also listed above.

Edmonton Junior Chess Club (organization)
Calgary Junior Chess Club (organization)

Title explanation:
IM = International Master (reached at least 2400 FIDE).
WIM/FM = Women's International Master/FIDE Master (reached roughly 2300 FIDE).
NM = National Master (reached at least 2200 CFC).

The ACA is not responsible for the quality of instruction provided by instructors listed here.

ACA Coaching Award
ACA Coaching Awards are granted to juniors with outstanding performances at the following tournaments: Alberta Junior Championship, Alberta Regional Junior Championships, Alberta Youth Chess Championship, and Alberta Youth Chess Championship Regionals. The awards, which vary from $60-$100, allow the juniors to contact one of the instructors listed above and receive lessons of an equivalent value (the price of the lessons is a matter of negotiation between the student and coach, but they cannot exceed the amount on the coaching award.)

After the lessons, the parent and coach must fill out the coaching award form. It is then the coach's responsibility to email the document to the Executive Director at albertachess@gmail.com. The Executive Director will then pay the coach directly.

Becoming an ACA-approved Instructor

If you wish to become an ACA-approved instructor, please download the application, fill it out, and return it to the Executive Director at albertachess@gmail.com. The application will be passed to the coaching committee, which will evaluate it. If approved, you'll be asked to submit a police check (vulnerable sector). After this is processed, you'll be able to send in an ad to be placed on this page, and students will be able to claim the ACA coaching award with you.

CFC Teaching Manual

Download a free copy of an excellent teaching tool written by IM Tom O'Donnell. Note that the information at the beginning of the manual is dated. For example, the CFC is no longer in Ottawa and the prices of chess equipment have changed over the years.

Also, download a "So you want to play chess" booklet for beginners from the CFC website.