Alberta Chess Association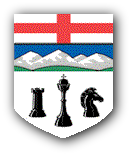 ACA Instructors Directory


Information about registered coaches in Alberta is posted here for potential students. Please note that only the listed instructors are to be contacted to claim the coaching prize.

IM Edward Porper (Edmonton)

WIM Agnieszka Matras-Clement (Leduc)

FM Loren Brigham Laceste (Edmonton)

NM Robert Gardner (Edmonton)

NM Vlad Rekhson (Calgary)

NM Steven Peter (Calgary)

Richard Pua (Edmonton)

Mojtaba Faraji (Lethbridge)

Angelo Tolentino (Calgary)

Dustin Koperski (Edmonton)

Frank Kluytmans (Calgary)

Organizations offering instruction

Calgary Junior Chess Club
Calgary, AB

Title explanation:
IM = International Master (reached at least 2400 FIDE).
FM = FIDE Master (reached at least 2300 FIDE).
NM = National Master (reached at least 2200 CFC).

The ACA Coaching Award form must be filled out and emailed to albertachess@gmail.com

If you are interested in becoming an instructor, provide a paragraph describing yourself and anything else relevant to your ad. Once your information is processed, your ad will be placed on this page.

Contact albertachess@gmail.com with your information or if you have any questions.

The ACA is not responsible for the quality of instruction provided by instructors listed here.

CFC Teaching Manual

Download a free copy of an excellent teaching tool written by IM Tom O'Donnell. Note that the information at the beginning of the manual is dated. For example, the CFC is no longer in Ottawa and the prices of chess equipment have changed over the years.

Also, download a "So you want to play chess" booklet for beginners from the CFC website.