Alberta Chess Association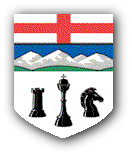 Edmonton Chess Club Regular events


The Edmonton Chess Club is located at #204-10840 124 Street NW, Edmonton, AB T5M 0H3

Club contact
President: Terry Seehagen, email terryseehagen@hotmail.com
Club phone: (780) 424-0283

The Edmonton Chess Club is open regularly three times a week, Monday, Thursday and Saturday with each day offering different types of events. Read descriptions below to find out more information about them. Please note that unless otherwise noted, club events are open to everyone and participants of all ages are welcome.

Thursday Night
Registration time: 6:30 pm.
Start time: 7:00 pm.
Format: One game a day with a long time control. The current time control is 40 moves in 90 minutes, then game in 30 minutes, with a 30 second-increment from move 1.
Entry fee: $. Additionally, CFC membership is required. If purchased together with club membership, the total of that is $68 a year for adults (less for juniors).
Atmosphere: Friendly, but serious. Noise levels are kept at a minimum and the games are serious.
Type of players: Everyone from strong Masters (even International Masters) to beginners. The tournament runs as an Accelerated Swiss, which means that, typically, lower rated players will not play against the top rated opponents, unless they do really well, thus it is often the case that in the end of the tournament first place is shared by players rated 2400 and 1400.

Monday Night
Registration time: 6:30 pm.
Start time: 7:00 pm.
Format: 4 games with Active time controls (25 minutes plus 10 seconds delay).
Entry fee: Free, but a club membership is required which costs $30 a year. Alternatively, $3 nightly dues can be paid. First visit is free.
Atmosphere: Friendly and casual. Noise levels are not very strict and the atmosphere is casual, as games are not rated.
Type of players: The majority of players are either beginner or intermediate, although once in a while Expert level players come as well. If you have not played tournament chess before, this is an ideal place to start.

Saturday
Registration time: 12:30 pm
Start time: 1:00 pm
Format: casual active chess of 4 rounds.

* Please note that Saturday chess is sometimes cancelled if the club hosts a weekend tournament. The schedule of those events can be obtained on the ACA 'tournaments' page. Entrance to the club is still possible, so you could find a game if you come by.