Alberta Chess Association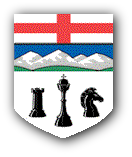 Calgary Chess Club Regular Events


The Calgary Chess Club is located at
#274-3359 27 Street NE, Calgary, AB T1Y 5E4
(Close to Barlow Trail and 32nd Ave NE)

Club contact
Phone: (403) 264-9498
Email: calchess@telus.net

President: Gerard Labute, email glabute@telus.net

The Calgary Chess Club is open regularly three times a week, Tuesday Thursday and Saturday with each day offering different types of events. Read descriptions below to find out more information about them. Please note that unless otherwise noted, club events are open to everyone and participants of all ages are welcome.

Tuesday Night

Registration time: 6:45 pm.
Start time: 7:15 pm.

Format: One game per Tuesday. Long Time controls (game 90+30 seconds increment from move 1).
Each tournament starts on the first Tuesday of a month and runs throughout the month.
Fees: $5 per round, thus if the tournament is 4 rounds a $20 fee applied. Juniors are given a discount. 80% of entries are returned as prizes, which include class prizes.
Additionally, CFC membership is required and if purchased together with club membership the total of that is $73 a year for adults (less for juniors and seniors).
Atmosphere: Friendly, but serious. Noise levels are kept at a minimum and the games are serious.
Type of players: Everyone from strong Masters to beginners.

Thursday Night

Registration time: 6:45 pm.
Start time: 7:15 pm.

Format: 4 games with Active time controls (game in 15 minutes with a 5-second delay before every move).
Fees: $5 and a club membership is required, which costs $30 a year ($20 for juniors and seniors). Alternatively, $2 nightly dues can be paid. First visit is free.
Atmosphere: Friendly and casual. Noise levels are not very strict and the atmosphere is casual, as games are not rated.
Type of players: Players from beginners to Masters are welcome.
Players who do not wish to participate in the tournament, can play casual chess in the "skittles room."

Saturday

10:00 am - 1:00 pm

Format: Calgary Junior Chess Club tournaments several times a month. Drop-in school for beginners (juniors and adults).

* Please note that Saturday chess is sometimes cancelled if the club hosts a weekend tournament. The schedule of those events can be obtained on the ACA 'tournaments' page. Entrance to the club is still possible, so you could find a game if you come by.