Alberta Chess Association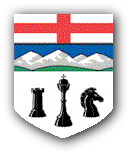 2016 Alberta Chess Challenge

Date: April 9, 2016
Venue: Lindsay Thurber Comprehensive High School
Address: 4204 - 58 Street, Red Deer, Alberta T4N 2L6
Organizer: Alexey Taranik
Tournament Director: David Miller

Download Tournament Flyer

12 Sections (Grades 1-12)
Format: The exact format of each section will depend on the number of participants but players should expect to play 4 games.
CFC rated

Time control: Game in 20 minutes with a 5-second increment.

Entry fee: $35 if pre-registered online by 8 pm, Friday, April 8th, $40 afterwards and on site. The entry fee includes light lunch.
Lunch will be guaranteed only to those players who will pre-register online by Wednesday, April 6th.

Registration
Fill out the registration form on the right. Payment will be made on site by cash.
Approximate Schedule on April 9

Registration: 10:15 am - 10:45 am
Rounds 1 and 2: 11 am - 1 pm
Lunch: 1 pm - 2 pm
Rounds 3 and 4: 2 pm - 4 pm
Tie-breaks (if necessary) and awards: immediately after the completion of the last round

Prizes in each section
1st, 2nd and 3rd place finishers will receive trophies.
Section winners will represent team Alberta at the 2016 Canadian Chess Challenge. This national event will be held in Regina, Saskatchewan, during the Victoria Day long weekend.