Alberta Chess Association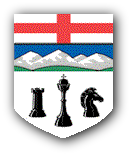 2012 News

Dec 31:, 2012 Happy New Year!
On behalf of the Alberta Chess Association I wish everyone a happy and prosperous New Year! I hope that you will play a lot of chess in the upcoming year. To get started please visit the tournament page to see 2013 chess tournaments in Alberta.

Dec 31, 2012:
Breaking News:
IM Richard Wang becomes the new Canadian Junior Champion!
At age 14 Edmontonian Richard Wang became the 2012-13 Canadian Junior Champion. In fact since this was the second Canadian Junior held this year, it was the second time that an Albertan won this event since David Zhang was the champion in January! Richard finished the strong tournament with 6.5/9.

Dec 20, 2012: Jamin Gluckie's team wins the 2012 WBX Team Tournament
The team consistent of Jamin Gluckie (lloydminster) Lukas Beaudry (calgary) and Jason Danner (Saskatoon) won the 2012 edition of the WBX Team event. Second was shared by a team consisting of FM Jack Yoos, Micah Hughey and Zach Kirsch. They shared the prize with a team consisting of IM Edward Porper, Jamil Kassam, Armine Arzumanyan and Tom Asquith as a round 1 substitute. A total of 10 teams participated in the tournament.


Dec 13, 2012: GM Eric Hansen on Chessbase
After having a tremendous performance in Panama, where he scored 8.5/9 with a 2899 performance rating, the prestigious chessbase.com website published an article which included Eric's result. http://chessbase.com/newsdetail.asp?newsid=8701

Nov 30, 2012: Edmonton and Calgary Club Christmas Parties and simuls
The Edmonton Chess Club will host its Christmas Party on Saturday, December 1st. Richard Wang will conduct a simul for all comers (25 maximum) starting at 1:30 pm.
Attendance is free for club members, but make sure to bring $5 if you would like to share the pizza.
The Calgary Chess Club will host its Christmas Party on December 11th and GM Eric Hansen will be conducting a simul. The simul is now almost sold out, if you would still like a seat, visit http://calgarychess.com/WORDPRESS/?page_id=1346 for full details.

Nov 18, 2012: Breaking News: IM Richard Wang wins Bronze at U-14 World Champ.
Edmontonian Richard Wang repeated his success from 3 years ago and earned bronze at the World Youth under 14 championship. Richard had a topsy turvy tournament as he won his first 4 games, then did not win in 4 straight but finished very strong winning the last 3 games for a final score of 8.5/11. That was good enough for a share of third with two other boys, but Richard's tie-break was better. Calgarian Diwen Shi scored 5.5/11 in the same section and 78th place overall which was way better than his 117th original rank. Calgarian Nicka Kalaydina finished with 6/11 and 39th overall which was also higher than her original 45th rank.

Nov 18, 2012: Rekhson,Ng,Eshelman,Haessel win SAO, Rekhson Qualifier to AB Closed
The annual Southern Alberta Open took place in Calgary on the weekend of November 17-18 at the Calgary Chess Club. The event was attended by 27 participants. In the end, there was a four way tie between NM Gary Ng, Brandon Eshelman, FM Dale Haessel and myself. I was lucky enough to pull through on tie-breaks and thus qualify for the AB Closed 2013. Southern Alberta Open

Nov 12, 2012: ACA TD Workshop/ National Arbiter certification exam
On November 25th I will be conducting a Tournament Director workshop from 11 am to 4 pm at the Calgary Chess Club. Immediately afterwards, an exam will be given for the National Arbiter Certification. Those who are successful will be eligible for the National Arbiter Title. Participants of previous Tournament Director Workshops do not have to attend this one in order to do the test although they are welcome to do so. The workshop will focus on the rules of chess, the Swiss pairing rules and prize giving procedures among other things. Coverage of Swissys Pairing Program will not be part of this workshop. My TD Workshop Manual is available here. If you are planning to attend the workshop and/or the exam please let me know before November 23rd. Attendance is free. An Edmonton Workshop will be available at a later date. If you live outside Calgary and wish to attend the workshop via Skype please let me know.
Vlad Rekhson vrekhson@yahoo.ca
Nov 7, 2012: Albertans competing at the World Youth Chess Championship
Three Albertans are currently competing at the World Youth Chess Championship in Slovenia. The event is taking place on November 7-19. You can view all the standings and pairings on the official website. Some live games are also available on the official website and also on www.chessbomb.com (which has computer analysis). Edmonton IM Richard Wang is ranked 4th at the start of the u-14 open tournament. Diwen Shi from Calgary is also participating in the same category. Nicka Kalaydina from Calgary is our representative at the Girls u-16 category. Good luck to all the participants.

Nov 7, 2012: Edmonton Fall Sectional Games are available
The section A of the Edmonton Fall Sectional has been one of the strongest in history with an average FIDE rating of 2329 and average CFC rating of 2438! All section A games and many of the games from the other 3 sections have now been entered. Visit the games page to see the games. CFC has now rated all the sections. Crosstables can be viewed here.
Nov 4, 2012: IM Richard Wang wins the 2012 AB Junior with a perfect 5/5!
Richard defeated his main rival; David Miller from Grande-Prairie to claim first prize. David also defeated the other competitors and finished second with 4/5.

Nov 4, 2012: RIP Dr. Ron Hinds 1954-2012
I am saddened to relay the news of another great Alberta chess volunteer. Dr. Hinds passed away last Tuesday. He has been the former president and treasurer of the Alberta Chess Association as well as the Calgary Chess Club. In honour of his name the Calgary Chess Club will name their November Tuesday night event, the Ron Hinds Memorial. Details on the event can be found here: http://calgarychess.com/WORDPRESS/?page_id=1457

Oct 30, 2012: Porper, Kalisvaart, McKay, Davies and Arzumyan win the Edmonton Fall Sectional
IM Edward Porper wins Section A with 3 1/2 out of five. Three players scored 3 to share 2nd-4th: FM Aman Hambleton, IM Richard Wang and FM Vladimir Pechenkin.
In Section B, Peter Kalisvaart scored 4 1/2 to win first. Mike Zeggelaar was 2nd with 3 and David Miller 3rd with 2 1/2.
In Section C, Arnold McKay and Robert Davies tied for first with 3 1//2, with Brian Phillips third with 3.
In Section D, Armine Arzumanyan scored 4-1 to take first in only her second event. Vladimir Blyznyuk finished second with 3 1/2 and Prayus Shrestha was third with 3. Special thanks go to Rick Pedersen for directing the event.

Oct
30, 2012: ACA Annual General Meeting
The 2012 Annual General Meeting took place at the Edmonton Chess Club on October 28. You can see the meeting minutes here. I would like to thank the outgoing directors: Tim Pradzinski and Leonard Steele for taking their time to serve on the board over the past several years. I would like to welcome the new Vice-President Mike Zeggelaar from Edmonton, as well as, the new directors: Jina Burn from Ft. McMurray and Robert Davies from Edmonton.

August 30, 2012: Over/Under 1800 tournament September 1-2, 2012
The annual event is going to take place this weekend at the Edmonton Chess Club. Early registration at the club tonight will save you $5. Full event details are available on the tournament page.

August 30, 2012: Team Canada at the Chess Olympiad
The Canadian Open and Women's section teams are currently taking part in the 2012 Chess Olympiad in Istanbul. After two rounds, The guys have two team victories and a total of 7/8. The women have one win and one loss and a total of 4/8. Alberta's representatives are doing quite well. IM Eric Hansen has 2/2 and IM Edward Porper has 1/1. Official website

August 25, 2012: RIP Cor Dewindt (March 22, 1936 - August 19, 2012)
I am saddened to relay the news of the passing of Cor Dewindt. Cor has been a long time player at the Edmonton Chess Club and a former President.
Until a few years ago Cor has been a very active player, but lately he wasn't
able to attend the club due to poor health.
Cor always loved the game and even though he was never a very high rated player,
he always competed with respect to the game and to his opponents. In the past,
beating Cor was a sort of right of passage for up and coming Edmonton players.
Many of the top players in the club would still remember the first time that
they had beaten the veteran.
Cor's obituary can be found here: http://tinyurl.com/9ew57nf

August 18, 2012: Congratulations to Team North on winning the 2012 Battle of AB. The final score was 14.5-9.5. Final standings and a link to some of the event games is available at the tournament page.

August 15, 2012: Hansen/Kalaydina represent Alberta at world Junior championship
Calgarians IM Eric Hansen (2472) and Nicka Kalaydina (1928) finished a very successful World Junior, 20 and under championship, for them. IM Eric Hansen was ranked 26th out of 130 participants at the start. He had a great finish as he beat two higher rated participants and finished with 9/13 and a share of 5th-10th places.
Nicka was ranked 56th out of 66 in the girls section. She also had a strong finish and ended up with a very respectful 6.5/13 and a tie for 31-38 places.
All results are available here


Breaking News:

August 11: Richard Wang becomes the Youngest IM in Alberta history
Edmontonian Richard Wang scored 6/9 and tied for third place in the Canadian Closed Zonal. He then went on to defeat Nikita Gusev to earn the International Master title that was up for grabs in the event. Richard is still 13 years old and he will now be one of the youngest IMs in the world! A special mention has to be given to another Edmontonian, FM Vladimir Pechenkin who suffered a tough last round loss and finished with a strong 5/9 after facing almost all the top participants. The event was won by GM Bator Sambuev who destroyed the field and scored 8.5/9 only giving up a draw in the last round to IM Leonid Gerzhoy. Official website

August 1, 2012: Diwen Shi scores 5.5/9 at u-14 Pan-Am
Calgarian, Diwen Shi earned the right to represent Canada at the Pan-American Youth championship in Peru, after taking second place in the Canadian Championship. Despite having to stay in an awful hotel which was more like a backpackers hostel, Diwen scored a decent 5.5/9 and tied for 15th place in a field of 94!
http://chess-results.com/tnr77934.aspx?art=1&rd=9&lan=1

June 22, 2012: Gary Ng and Vlad Rekhson win the Calgary Summer Open
NM Gary Ng and I shared first in the Calgary Summer Open tournament. We scored 4/5 each but didn't get a chance to face each other. Third place was shared by NM Roy Yearwood, Rick Pedersen (who recovered after a tough start) and Pat Porter who won the best under 1900 prize. They all scored 3.5/5. Second in the best under 1900 category went to Samer Louise who scored 3/5. Best under 1600 was won by the Alberta under 8 champion Ian Zhao who is only rated 971! Ian scored 3/5. Best under 1200 went to Raphael Libre who scored 2/5. You can view the final standings at the tournament page.

July 15, 2012: IM Eric Hansen wins the 2012 Canadian Open
Congratulations to Calgarian IM Eric Hansen who scored 7.5/9 on his way to win the 2012 Canadian Open Chess Championship! Other Albertans also did well. FM Richard Wang and IM Edward Porper were part of the group that shared third with 6.5/9. Richard's performance was good enough for an IM norm, unfortunately a technicality involving amount of titled players faced prevented him from doing so. Other notable Alberta results included: Alex Yam and Jeff Reeve scoring 5.5/9 in the Open section, Yassen Bogoev scoring 6/9 and tying for 5th in the u-2000 section and the talented junior from Edmonton- Lenard Grossman tying for 8th with 5/9 in the u-1600 section. Visit the official website for all the tournament information.

July 6, 2012: Albertans FM Richard Wang and Nicka Kalaydina win 2012 CYCC.
A total of 7 Albertans took part in the 2012 CYCC which took place in Surrey, BC.
FM Richard Wang from Edmonton took first place in the u-14 section with 6/7, while Nicka Kalaydina from Calgary won the u-16 girls section with 5/6!!! They will both now earn the right to represent Canada at the 2012 WYCC in Maribor, Slovenia. Other Albertans also did well. Diwen Shi from Calgary finished second in the u-14 category (right behind Richard) with 5.5/7. He can now also go to WYCC but without CFC funding. Ian Zhao from Calgary was sixth in the u-12 section with 4.5/7. Patrick Angelo tolentino shared 4th in the u-10 section with 5/7. Nicholas Lee from Calgary shared third (fifth on tie-break) in the u-12 section with 5/7. In the same section, Andre Tolentino from Calgary finished with 3/7. Congratulations to all the junior participants on representing Alberta well at the nationals!

July 3, 2012: GM Nigel Short wins the 7th Edmonton Internatioanal. Nigel scored 20 points and he was ahead of GM Victor Mikhalevski by 3 points (in the 3 point scoring system) who was followed by GM Anton Kovalyov at 16. IM Irina Krush finished with 14 points and IM Edward Porper had 13 points together with the surprise of the tournament-NM Robert Gardner. The Reserves Open section was won by NMs Nic Haynes and Gary Ng with 12/15 each. Mike Zeggelaar was the surprise of the event and he finished third with 10 points. Jamil Kassam won the best junior prize with 9 points. The u-1700 section of the reserves was won by Dennis Situ with 12/15. Kaixin Wang and Richard Roberts with 10/15. Best junior award went to Lenard Grossmann who scored 8/15. The International Blitz Tournament was won by GMs Anton Kovalyov and Victor Mikhalevski with 8.5/10. Third went to Vlad Rekhson with 7/10, fourth went to NM Nic Haynes with 6.5/10. Best u-2100 was won by Willy Majaducon, while the best u-1900 was won by Rob Erikson. Thank you for all the participants for making this a great event! Please visit the Standings page to view the final standings. You can view the tournament games page for the International games.

July 1, 2012: National Master Rob "The Rocket" Gardner earns his first International Master norm at the 7th Edmonton International. He is the first ever Albertan to earn such a norm at the Edmonton Internationals. Rob had a tremendous performance at this year's event, He played his last round early, but the competition will end on July 2nd. Currently, GM Nigel Short is leading the field with 17 points (3 point scoring system is used). GM Victor Mikhalevski is second with 16 points, GM Anton Kovalyov is third with 15 and IM Edward Porper is fourth with 13 points. View all games and live games of the last round here. Standings and pairings are available here.

June 12, 2012: Congratulations to NM Gary Ng and Derek Zhang for winning their sections at the 2012 AB Active. A total of 14 players took part in the annual event which was organized and directed by Frank Kluytmans at the Calgary Chess Club. The Open section was won by newcomer from Nova-Scotia, NM Gary Ng. He scored 4.5/5. Second went to Vlad Rekhson with 3.5/5. Third was shared by Roy Yearwood and Diwen Shi with 3/5 each. Diwen had an interesting endgame against Vlad where he had a knight and bishop vs. Long king and he managed to find the right path to checkmate despite having less than two minutes (plus 10 seconds increment) on his clock. The u-1200 section was won by Derek Zhang with 4.5/5. Second went to Chen Wu with 4/5. Third place went to Zeling Li with 3/5.

June 4, 2012: The 29th Annual Trumpeter Classic was completed in Grande-Prairie this weekend. AB Champion FM Richard Wang was the class of this field of 14 with a perfect 5/5 score! Second went to a local junior-David Miller who scored 3.5/5. Third was shared by Tim Pradzinski and Wade Caughlin who scored 3/5 each. Best under 1800 prize went to Archie Robertson (3/5), second in that category was shared by: Steve Panteluk, Phil Lefkowitz and Chris White. Best u-1500 went to Stan Longson who scored 2/5. We will now look forward to the 30th Jubilee of this event next year. Special thanks to organizer Tim Pradzinski for organizing this great event.

June 1, 2012: Alberta Active Championship is only a week away. The tournament will take place at the Calgary Chess Club on Sunday, June 10th. In addition to the main event, a side tournament for under 1200 participants has been established. You can see the full details on the tournament page and please write TD Frank Kluytmans if you think that you could make it.

May 26, 2012: The 2012 AB Women's Championship attracted a total of 4 players, two from Calgary and two from Fort McMurray. It seemed that since Nicka Kalaydina was the only rated participant (at 2001 CFC) she would have a clear edge over the rest, but that wasn't necessarily the case. Nicka first defeated her mom Nina and then Ancy Chacko. That lead to a final encounter against Jina Burn who had 1.5/2 after letting a clear win slip away against Nina Kalaydina. In the final game Jina pushed hard with the white pieces but in the end she couldn't quite get the win but managed to achieve a very respectful draw. I would like to congratulate Nicka Kalaydina on winning this year's Alberta Women's, as well as all the other participants for the exciting games and Rick Pedersen for directing the event. Please visit the official page for full standings. A few games are also available to be viewed, I will add the final game between Nicka and Jina later on. Unfortunately a couple games were either incomplete or missing.

May 22, 2012: The 5th annual Calgary International Chess Classic concluded in an exciting fashion. First, FM Vladimir Pechenkin quickly finished his game against GM Larry Kaufman to secure his first ever IM norm (he will need a 2400 rating and 3 such norms to receive the title). Then the tournament leader, GM Kovalyov stumbled and allowed a draw against IM Raymond Kaufman. That meant that GMs Shabalov and Gurevich could still catch him. It looked like they might, as their positions against FM Wang and Rob Gardner seemed favourable. While GM Gurevich managed to win against Rob, Richard put a tough fight and managed to fend off GM Shabalov for a draw. IM Porper defeated David Miller to share third and receive $125 each with GM Shabalov, while GMs Gurevich and Kovalyov shared first and received $750 each.
The Reserves section and the $500 first prize was won by Brad Booker who scored a perfect 6/6. The under 1200 section and $100 first prize was won by Mohammed Fellah with 6.5/7 (first round bye). Calgary International games and standings are available here.
Daily reports up to round 5 (more will be available in the next few days) and Reserves/under 1200 reserves are available here.

May 22, 2012: Team Alberta finished fourth in the annual Chess and Math Championships. The tournament is held in a round-robin format where each province sends one representative per grade. Alberta scored a total of 6 victories and 3 losses in the competition. Notable individual performances include: Grade 2-Ian Zhao 8/9 shared first (second after play-off).
Kaixin Wang tied for third in Grade 3 and won a tiebreak game to win third while Diwen Shi and Chenxi Zhao each tied for third in Grades 7 and 8 respectively, but lost tiebreaks to fall to fourth. Full results are available on the official website.

May 21, 2012: In round 8 of the Calgary International IM Edward Porper managed to get an upset victory over the tournament leader-GM Alexander Shabalov. On board two GM Anton Kovalyov witnessed a strong resistance from Calgary Champion-Kim Nguyen but in a study like endgame Anton won. Unfortunately the live broadcast of this game was stuck, but the game should appear on the official website shortly. On board 3, GM Dmitry Gurevich defeated FM Richard Wang, thus ending Richard's IM hopes. On board 4 GM Victor Mikhalevski couldn't break through FM Vladimir Pechenkin's defenses and the game ended in a draw. Meaning that in the last round Vlad only needs half a point for an IM norm. In other games, Alex Yam lost to GM Larry Kaufman. FM Dale Haessel beat Rob Gardner, Sean Perron drew Aaron Sequillion and IM Raymond Kaufman beat David Miller.
The top of the leader board is now occupied by GM Anton Kovalyov with 6/8. Second is shared by GMs Alexander Shabalov and Dmitry Gurevich. IM Edward and FM Vladimir Pechenkin are tied for 4th with 5/8.

May 18, 2012: Rounds 4 and five of the Calgary International were able to show who is in good form and who isn't. GMs Kovalyov and Shabalov did not demonstrate a perfect game but they were able to get ahead of the field and they now lead with 4/5. The best Albertan and the surprise of the event thus far is FM Vladimir Pechenkin who currently has 3.5/5 and Vlad has already faced 3 out of the top four players of the competition. To find all the tournament information, including, pairings/standings, games and round by round reports with GM commentary please visit the official website.

May 16, 2012: Rounds 2 of the Calgary International saw more upsets taking place. The newly crowned FM Richard Wang drew against GM Victor Mikhalevski. IM Raymond Kaufman defeated IM Eric Hansen causing the latter to withdraw and FM Vladimir Pechenkin drew against GM Dmitry Gurevich. On board one GM Kovalyov once again managed to turn the tables around half way through the game as he defeated IM Edward Porper. In round 3 there was much less in way of upsets. The top two rated players, GMs Anton Kovalyov and Alex Shabalov met on board one. After a pretty interesting game the game ended in a draw. On board two GM Mikhalevski was able to win his first game of the event as he defeated GM Dmitry Gurevich. On board three FM Vladimir Pechenkin from Edmonton beat IM Raymond Kaufman. You can view the games of the event on the official website.

May 20, 2012: After 7 rounds of the Calgary International, GM Alexander Shabalov is in the lead with 5.5/7. Second belongs to GM Anton Kovalyov with 5/7. GM Dmitry Gurevich and FM Vladimir Pechenkin are sharing third with 4.5/7. Vladimir will most likely require another point to earn an IM norm (as long as his last round opponent is rated over 2161). FM Richard Wang shares fifth together with Victor Mikhalevski and IM Edward Porper with 4/7 each. Richard will require 2/2 or 1.5/2 if his last round opponent is GM Shabalov for the IM norm.

May 20, 2012: The Calgary International Blitz Championship was one of the strongest open tournaments in Alberta history. A total of 4 GMs, 2 IMs and and 3 FMs took part in it and the middle point by rating was 2258! On the other hand, the 18 player field was open to everyone and included some much lower rated players. The double five round Swiss was won by GMs Kovalyov and Shabalov with 8.5/10 each. Third was shared by GM Dmitry Gurevich and IM Eric Hansen.

May 18, 2012: While the International section of the Calgary International is in full swing, the other events are just about to get on their way. Today, May 18th the Blitz tournament will be played starting at 8:30 pm. The Open Reserves and Under 1200 Reserves will start tomorrow morning. To view details of those events please visit the tournament website.

May 12, 2012: It's official, at the age of 13, Edmontonian Richard Wang became Alberta's youngest ever FM: http://ratings.fide.com/card.phtml?event=2608243

April 30, 2012: Alberta will be home of some very exciting events in the next couple of months. It will all start with the Calgary International on May 15-21 and Reserves on May 19-21. If you are an out-of-towner make sure to book your hotel on-site at Ramada Inn ASAP as the special rate will expire on May 2nd.
AB Women's is next on the list on May 26-27 in Edmonton.
Tim Pradzinski is planning a fun and exciting Trumpeter Classic in Grande-Prairie, on June 2-3 with participation of AB champ-FM Richard Wang. AB Active is next on the list and it will take place on June 10 in Calgary.
Last but not least is the Edmonton International Chess Festival. We will be honoured to host world championship finalist-GM Nigel Short among other very strong players. The main event will take place on June 27-July 2nd. Reserves will be played on June 30-July 2nd.

April 29, 2012: National Masters Rob Gardner and Alex Yam finished the 7th Edmonton International Qualifier with 4/5 but since Rob beat Alex in their head to head encounter, he receives the spot in the main event scheduled for the end of June. Ali Razzaq won the best u-2000 prize with 3.5/5 and Jeff Anthony De Guzman was best under 1800 with 3/5. Full standings are available on the event website.

April 27, 2012: The 2012 Edmonton International Qualifier/Fundraiser is now under way. A total of 15 players are taking part in this event. Live games and standings are available on the official website.

April 23, 2012: The April Alberta Chess Report is now available online. Printed version will be available across the province soon.

April 16, 2012: The 2012 Lethbridge Open has been a great event. The organizers Paul Viminitz, Peter Davis-Imhof and the rest of the Lethbridge team did a great job of making this a great and a very friendly event.. Special thanks goes to Paul Viminitz for hosting out of towners, providing a great wine/beer and cheese party and donating money to cover the ACA dues. Frank Kluytmans deserves a special recognition for doing a great job of running this conflict free tournament.
You can now view the final standings, games and a pre-tournament Global TV report. (report starts at 6:10).

May 15, 2012: The first round of the Calgary Internaitonal was played today at Ramada, downtown Calgary. So far there has only been one upset as NM Rob Gardner was able to draw GM Victor Mikhalevski. Nevertheless, it looked like more upsets were in the making as GM Kovalyov seemed to be in some trouble against NM Richard Wang, while Alex Yam was doing really well against GM Alexander Shabalov. In the end, however, the GMs turned the tables around and managed to win the games. You can view the games live on the official website.
April 14, 2012: The 2012 Lethbridge Open is under way. There are a total of 14 participants representing Lethbridge, Calgary, Medicine Hat and Edmonton. Please visit the games section of the website to see the first round games. An interesting Global TV interview was conducted with one of the organizers-Peter Davis-Imhof. It can be found here.

April 10, 2012: This year's Lethbridge Open is held on the weekend of April 14-15. This is a very interesting and friendly event. One of the features of it includes a wine and cheese party at the organizer Paul Viminitz's house on Saturday night. Visit the official page to see all tournament details.

April 8, 2012: National Master Richard Wang breaks IM Eric Hansen's record as he becomes the youngest ever Alberta Chess Champion as he won the 2012 Alberta Closed Championship with a score of 3.5/5! Second place was shared by IM Edward Porper and NM Alex Yam who scored 3/5 each. The reserves saw a shared first place between NM Rob Gardner and Jim Daniluk who scored 4/5 each. Ali Razzaq took the third spot with 3.5/5. Best u-2000 was shared by Rick Pedersen and Tim Pradzinski with 3/5 each while George Sponga shared best u-1700 with the junior Kaixin Wang. They each scored 2.5/5. All the tournament details are available on the official page. You can view the event games at the ACA game page. Pictures available at here

April 8, 2012: Going into the last round of the AB Closed, NM Richard Wang has 3.5/4 and IM Edward Porper is in second with 2.5/4. If, Richard loses the last game, while Edward wins, the title will go to Edward, since he was black in the game between them.

March 20, 2012: The 2012 Alberta Closed Championship pairings are now out. The tournament will start on April 6 and will go until the 8th. The main event will be played alongside the AB Women's and AB Reserves.

March 18: It is less than a week before the 2012 March of Kings Open in Calgary. Email the tournament director-Frank Kluytmans to be included on the pre-registered list.

Mar 9, 2012: For those thinking of attending the excellent Lethbridge Open which will take place on April 14-15, please note that the Lethbridge Lodge, the site of the event has ran out of available rooms for April 13-14. The nearby Days Inn still has room availability. Please visit the tournament page for details on how to contact Days Inn.

Feb 27, 2012: Congratulations to FM Vladimir Pechenkin on becoming the 2012 Edmonton Champion. Vlad won the final against IM Edward Porper by the score of 1.5/0.5. The final two games including an annotation of the last game by Micah Hughey, as well as, a selection of several tournament games can be viewed at: the tournament page. A special thanks goes to Micah Hughey for once again directing this great event!
Feb 26: 2012 Alberta Youth Championship is over and I would like to thank all the 29 participants and the organizers Frank Kluytmans and Paul Gagne on making this a terrific event. A special congratulation goes to the 2012 Alberta Youth Champions: Ian Zhao (u-8), Patrick Angelo Tolentino (u-10), Nicholas Lee (U-12), Richard Wang (U-14), Regina-veronicka Kalaydina (u-16) and David Zhang (u-18). Full standings can be viewed at: https://sites.google.com/site/calgaryjuniorchessclub/pre-registered-list/2012-aycc
Some pictures will be available soon.

Feb 19, 2012: The 2012 Northern Alberta Open is now over and we have a new champion as NM Alex Yam won the event with an impressive score of 4.5/5. Alex is now confirmed to participate in the 2012 Alberta Championship in April. Second was shared by IM Edward Porper, NM Nic Haynes and NM Richard Wang with 4/5 each. Best under 2200 was shared by a newly returned Edmontonian David Ottosen and aaron Sequillion with 3/5 each. The under 2000 prize was taken by Jamil Kassam with 3/5. Best under 1700 was George Sponga who also scored 3/5. Please visit the.official tournament page to see the full final standings.

Feb 6, 2012: NM Alex Yam wins University Battle of AB. University of Alberta is the top school. The event was directed by Frank Kluytmans and all the details in his very extensive report are available here. Due to an organizational error the event will not be active rated as originally announced.

January 31, 2012: The January 2012 issue of the ACR magazine is now available online. You can view it here.

January 31, 2012: The University Battle of AB is taking place on the weekend of February 4-5. The event will be a 10 round Swiss. 36 players are currently pre-registered. To see the pre-registered list you can visit: https://sites.google.com/site/calgaryjuniorchessclub/pre-registered-list/2012-university-battle-of-ab

January 31 2012: Congratulations to the winners and all the prize winners of the very successful 2012 John Schleinich Memorial! Some of the tournament games are available at: http://calgarychess.com/SchleinichGames.html Final standings can be viewed at: http://www.calgarychess.com/SchleinichStandings.html

January 9, 2012: Calgarians NM David Zhang and Nicka Kalaydina won the 2012 Canadian Junior Championship! David won the open section with the incredible 6.5/7 despite being only the 5th highest rated player. Second went to NM Richard Wang from Edmonton with 6/7 and third went to FM Shiyam Thavandiran from Ontario. Nicka Kalaydina was the pre-tournament favourite and her domination was never in doubt as she finished the tournament with 4.5/5. Both Nicka and David have won the right to represent Canada in the World Junior in Greece later this year. Tournament results are available at: http://www.cjcc2012.ca/ All tournament games are available in the games section and pictures can be viewed by going to: https://picasaweb.google.com/vrekhson/CanadianJunior2012 Special thanks goes to Head Organizer Frank Kluytmans and the entire organizing committee for bringing this event to Alberta.

January 9: The Calgary John Schleinich Memorial is now SOLD OUT as all 48 spots have been taken. Replacements may still be accepted in case someone will drop out. The tournament will take place in the Calgary Chess Club on January 20-22.

Archived News: 2011